Our 8th annual Richard's Father Day Walk & Jog raised more than $110,000 for Moffitt Cancer Center.
That's $710,000 to Moffitt from this event since 2014.
The June 20 course started and ended at Ulele restaurant, with almost 500 walkers and joggers on the Tampa Riverwalk.
Thanks also to the many volunteers, staff and sponsors who made it happen.
Larger cash sponsors included Sherloq Solutions, Imperial Dade paper, Gordon Food Service, Tito's Vodka, TECO,  More Amor Fund, Local Seafood, Jim Beam and RNDC. Southern Glazers also helped bring in numerous wine and spirits sponsors.
See you on June 19, 2022 for the 9th annual fundraiser.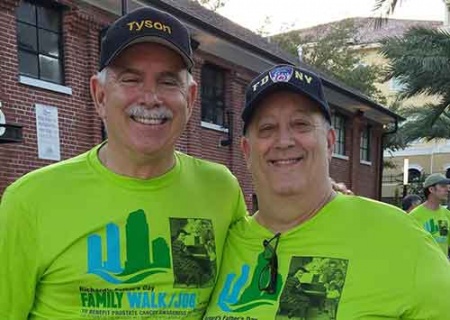 Richard Gonzmart with Doug Federman at Richard's Father's Day Family Walk/Jog. The money is earmarked for Moffitt. According to the American Cancer Society, one man out of six will be diagnosed with prostate cancer, and one of 35 will die every year. Prostate cancer is the second-leading cause of cancer deaths in American men, second only to lung cancer.
---
Our Causes & Events
The Gonzmart Family Foundation contributes annually to many worthy causes. Two of our annual events are "Richard's Run For Life 5K," held on the first Friday night in November in Ybor City's Centennial Park, and "Richard's Father's Day Walk & Jog," held at Ulele on the Tampa Riverwalk every Father's Day.
---