Richard's Run Registration Opens
The 19th annual Richard's Run For Life, this year a virtual 5K, is now open for registration.

To register: https://raceroster.com/events/2020/34307/richards-run-for-life-virtual-5k
We hope to donate $150,000 to Moffitt Cancer Center – adding to the $1.5 million raised in the first 18 years of this event.
Because of health restrictions, this year's 5K participants will be "running alone, together." No crowds, no parking or weather challenges. Instead of an after-party, each registrant will receive a $25 gift certificate to the Columbia and Ulele donated by our company.
You can download a free custom bib. We've also created to a 40-minute Spotify playlist. Optional Dri-Fit race shirts also are available for another $10 (includes shipping and handling).
Participants will complete the 3.1 miles wherever and whenever they chose, anytime from the start of registration through the end of November.
But the only finish line that matters is finding a cure for cancer. And that has not changed. The work Moffitt does right here in Tampa is life- saving and life-changing. They feature nationally recognized specialists – the best in their fields – dedicated to a cure.
This donation specifically is directed to fulfill a Columbia Restaurant Group $1 million pledge for a Moffitt brachytherapy suite. Brachytherapy uses more targeted internal radiation instead of external radiation. This treatment is highly effective, produces fewer side effects and offers faster recovery times than other treatments. In addition to treating prostate cancer, brachytherapy also is used on breast, cervical and sarcoma cancers, among others. And this dedicated suite will allow Moffitt to treat twice as many patients.
For more information, including sponsorships, contact Arlynn Haarer, 813.248.3000, ext. 24.
"Richard's Run for Life" 5K Race is part of the Gonzmart Family Foundation — a 501(c)(3) non-profit organization.

Each year the Tampa Bay community gets together to run through the streets of Tampa's historic Ybor City
W hen you are inspired by some great purpose, some extraordinary project, all your thoughts break their bounds. Dormant forces, faculties and talents become alive, and you discover yourself to be a greater person by far than you ever dreamed yourself to be.

- Patanjali

This quote was a great motivator for me and still is. Using my experience as a runner and my desire to find a cure for cancer I created "Richard's Run for Life" under the Gonzmart Family Foundation, a 501(c)(3) non-profit organization dedicated to raising funds to find a cure for cancer. Creating Richard's Run was a way to fulfill this goal of finding a cure.

- Richard Gonzmart
Father's Day Family Walk/Jog
Canceled For 2020
We reluctantly have decided to cancel the 2020 event for obvious reasons.
We had to halt our sponsorship drive in March and with so much uncertainty around social distancing, we never really started our registration push.
The sponsors already committed have graciously donated their money to our charity, Moffitt.
Thank you for helping us donate $600,000 in seven years, even with the cancellation of this year's event!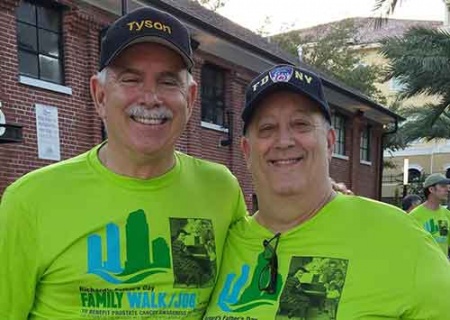 Richard Gonzmart with Doug Federman at Richard's Father's Day Family Walk/Jog. The money is earmarked for Moffitt. According to the American Cancer Society, one man out of six will be diagnosed with prostate cancer, and one of 35 will die every year. Prostate cancer is the second-leading cause of cancer deaths in American men, second only to lung cancer.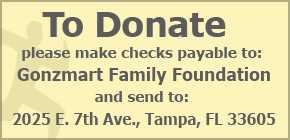 Or Donate Online Right Now!
---
Our Causes & Events
The Gonzmart Family Foundation contributes annually to many worthy causes. Two of our annual events are "Richard's Run For Life 5K," held on the first Friday night in November in Ybor City's Centennial Park, and "Richard's Father's Day Walk & Jog," held at Ulele on the Tampa Riverwalk every Father's Day.
---