---
Our Causes & Events
The Gonzmart Family Foundation contributes annually to many worthy causes. Two of our annual events are "Richard's Run For Life 5K," held on the first Friday night in November in Ybor City's Centennial Park, and "Richard's Father's Day Walk & Jog," held at Ulele on the Tampa Riverwalk every Father's Day.\
---
Mark Your Calendar: Sixth Annual Richard's Father's Day
Family Walk/Jog June 16, 2019
Thank you, runners and walkers!
Our fifth annual Richard's Father's Day Walk & Jog is in the books. We hope you enjoyed the rest of your Father's Day
We donated more than $100,000 from this event to Moffitt Cancer Center. That's possible because of your participation and the generous support of our sponsors.
That means in the five years of this event we have donated $450,000 to Moffitt for prostate cancer research and awareness. Step by step, you're making a difference in the fight against cancer.
Please mark your calendars for Father's Day, June 16, for the 2019 event. Send us any comments and suggestions from this year. Based on them, we could make a few changes in our event.
See you then. We appreciate your support!
"Richard's Father's Day Family Walk/Jog" was created by fourth generation co-owner and Columbia Restaurant Group President Richard Gonzmart. His goal is to raise awareness of the disease and the need for testing, as well as to help fund prostate cancer research.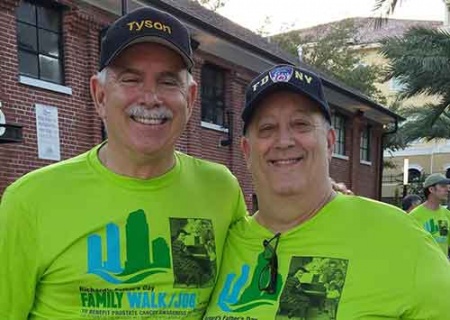 Richard Gonzmart with Doug Federman at Richard's Father's Day Family Walk/Jog. The money is earmarked for Moffitt. According to the American Cancer Society, one man out of six will be diagnosed with prostate cancer, and one of 35 will die every year. Prostate cancer is the second-leading cause of cancer deaths in American men, second only to lung cancer.