Help us fight cancer on June 20 at 8 a.m., starting at the Tampa restaurant Ulele on the Tampa Riverwalk as we walk or jog a 5K or 1-mile course. Ulele is at 1810 North Highland Ave.in Tampa Heights.
Registration for the 8th annual Walk & Jog is now open. To register, go to: https://raceroster.com/events/2021/45384/richards-fathers-day-walk-and-jog-2021
All proceeds go to Moffitt Cancer Center. As always, the Gonzmart Family Foundation pays every expense, and we donate all sponsorship and registration fees.
In the seven years of Richard's Father's Day Walk & Jog, we have donated more than $600,000 to Moffitt – even though we had to curtail the 2020 event at the outbreak of COVID.
With the rollout of vaccines and an anticipated decline in new virus cases, we are very happy that this will be LIVE after more than a year of virtual events.
This is a non-timed, family-friendly event (free for children under 12) on the beautiful Tampa Riverwalk. Registration includes a free dri-fit race shirt (while supplies last).
We encourage parents to bring their children and stroll together or pick up the pace and run a little. In 2019, our last live event, we had 600 participants.
Afterward, we'll provide some breakfast grab 'n' go for our registered participants.
The work Moffitt does in Tampa is lifesaving and life changing. They employ nationally recognized specialists – the best in their fields – dedicated to a cure.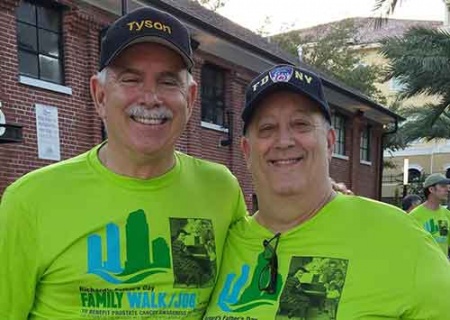 Richard Gonzmart with Doug Federman at Richard's Father's Day Family Walk/Jog. The money is earmarked for Moffitt. According to the American Cancer Society, one man out of six will be diagnosed with prostate cancer, and one of 35 will die every year. Prostate cancer is the second-leading cause of cancer deaths in American men, second only to lung cancer.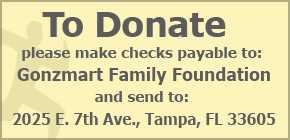 Or Donate Online Right Now!
---
Our Causes & Events
The Gonzmart Family Foundation contributes annually to many worthy causes. Two of our annual events are "Richard's Run For Life 5K," held on the first Friday night in November in Ybor City's Centennial Park, and "Richard's Father's Day Walk & Jog," held at Ulele on the Tampa Riverwalk every Father's Day.
---